This wiki is currently being artistically crafted... while you wait for it to be a perfect masterpiece, why don't you go look at Deidara?
Welcome, un!
Edit
Welcome to Deidarapedia, the wikipedia about Deidara.
Most people know Deidara as a character from the Naruto: Shippūden manga and anime.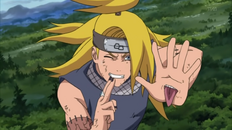 Ad blocker interference detected!
Wikia is a free-to-use site that makes money from advertising. We have a modified experience for viewers using ad blockers

Wikia is not accessible if you've made further modifications. Remove the custom ad blocker rule(s) and the page will load as expected.